Picture of the Year 2011 - the best shot of last year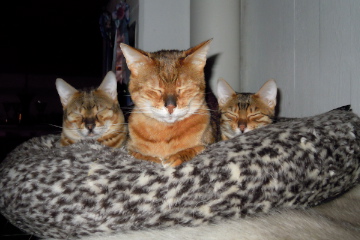 3 frieds - Etoha is neutered but she still group as much as posible kittens and those will be pampered.
Qo'noS Bengals
New pictures white Eastern >>>

About us
We - my husband Peter our son Björn and myself Claudia - live in Münchenstein - suburban of Basle / Switzerland. All our cats live with us together in our house and our kittens are raised indoors and are thoroughly socialized. They are used to being handled, and loved and cuddled. The kittens are vaccinated, wormed, and vet-checked before going into their new homes. Additionally we have build an outside fence therefore our cat family can enjoy the nature and weather. We never rise up more then 2 litters at the same time so we can gurantee that each kitten is well socialized and get all the attention it deserves. The obsession for Bengals is apparently contagious and now everyone in the family is involved with them, from playing with and caring of cats and kittens and to work and volunteer at cat shows.
All of our kittens are born and raised up inside our house, where I can keep a close eye on mom and kitties. All of our Cats and Kittens are regularly vetchecked, vaccinated and dewormed.
Contact information
Fam. Rohner
Schulackerstrasse 5
4142 Münchenstein / Basel
0041 61 831 26 02

~ Outside fence - impressions~

Our Breeding Goals
We work for cats with the following quality:
- Healthy cats
- with a loving and playful temper
- and wild looking appearance with good type
- Clear coats with spectaculaire patterns and extrem contrast
- Whited tummies
- Tiny ears
Webalbum Qo'noS Bengals November 25, 2005 >>>

We are founders of:
Q'Cat© >>>
IG Bengalkatzen Schweiz >>>
TICA Schweiz >>>
RKVO - Rassenkatzenvereinigung Ostschweiz >>>
EBOCAT >>>

About the Cattery Name
Qo'noS is the native name for the Klingon homeworld, a planet of the star Klingon and the site of the Imperial Empire's capital First City. It includes a lone huge land mass with a vast ocean, a severely tilted axis that causes wild seasonal changes, a turbulent atmosphere and extremes of both warm and frigid weather. The capital city remains neutral to both sides during the empire's civil war, and even houses Sela and Movar. It is sometimes Standardized as "Kronos." Bengals are like Klingons: they are thougly, courageously, proudly and strongly and If klingonen would have cats it would be Bengals. For Startreck fans like us here is the official Webpage: <www.startrek.com>