We would like to say a big thank to you for the wonderful environment that you provide our 'Babies', and for spending love and responsibility. We are convinced that the cats give back all those things to you. Thank you also for all the pictures, letters, emails, phonecalls etc. and entrusting in us. You know every goodbye is very hurtful for our hearts when the kitten leaves our home but we know that our 'Babies' will be pampered and beloved in their new homes and this makes us very, very happy.
We are still available for you.
NEW - Webalbum Qo'noS' Miral and Qo'noS' Nexus >>>
Webalbum of our kittens- Webalbum Qo'noS' Kittens >>>
Webalbum of our kittens May 2006 - Webalbum Qo'noS Kittens >>>
Webalbum of our kittens August 2006 - Webalbum Qo'noS Kittens >>>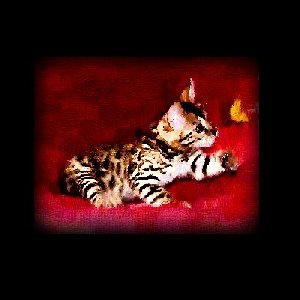 To our friends
To have friends is a privilege and the largest treasure, which could have a men. It is also a privilege to have anytime a friend with open ears, friendly or critically words, advices, support and and and... A big thank you to all of our friends - we will be there anytime you will need us.

To the breeders of our cats
Heartfelt thanks for entrusting us with such incredible cats. We will do our best to provide a wonderful catlike live for our four-legged friends. They are our sunlight and our love - a big part of our live. Thank you also for the frindship, support, encouragement and the patience with us.

To our Vet team
A big thank to the team of Dr. med. vet. A. Buser in Reinach / BL, who support our cats with love and patience anytime. 'Is the cat healthy, the owner is happy - this sentence is 100% true for us and so we are thankful to have such a great team.

To our family
To have a catbreeder in the family could be sometimes: unintelligible, strange, curious, funny etc. etc... But your had still comprehension for us and we would like to thank you all. We love you.

To our cats
You can't read and you can't speak our language but your eyes tells more than 1000 words can do. If you are healty, so we are. If you are sick, so we are. You are part of our live, our dreams and hopes. Day and night you stay with us. You show us your love, your trust in us every single day and you entrusting us with your babies - we love you. Thank you to be here.